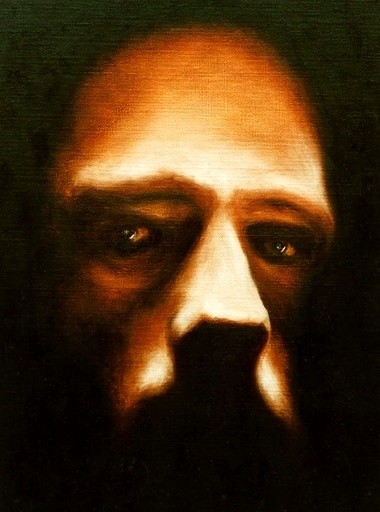 "Jeroen van Valkenburg, one of the most intense new artists of the 21st Century" (Keith Wigdor, Surrealism Now!)
Biography Jeroen van Valkenburg
Jeroen van Valkenburg (Leiden, 1973) is inspired by ancient myths and sagas that he encountered during his study Archaeology at the University in Leiden. Especially the stories from the Viking era (9th to 11th Century A.D.) play an important role in his works. His interest mainly lies in the religious and mystical side of the Viking culture. He tries to capture their magical and mythical atmosphere in his creations. His oil paintings can sometimes be regarded as icons of gods and goddesses long forgotten. His work has been exhibited in many galleries in Holland and abroad. His work is also well known from all the book/cd/lp covers he has designed.
For more info check:
Wikimedia (category Modern Painters): commons.wikimedia.org/wiki/Category:Jeroen_van_Valkenburg
Artist of the Visionary Art Gallery: visionaryartgallery.weebly.com/jeroen-van-valkenburg.html
Official member of the Energy Art movement: www.energyartmovement.org/profiles/valkenburg-jeroen-van/
contact: jeroenvanvalkenburg@yahoo.com
Jeroen van Valkenburg (Leiden, 1973, autodidact) laat zich inspireren door eeuwenoude mythen en sagen waarvan hij kennis heeft opgedaan tijdens zijn studie archeologie aan de Rijksuniversiteit te Leiden. Vooral de verhalen uit de Viking tijd (9e tot 11e eeuw n. Chr.) spelen een belangrijke rol in zijn werk. Zijn interesse gaat hierbij vooral uit naar de religieuze en mystieke kant van deze cultuur. Hij probeert die magische en mythische sfeer uit lang vervlogen tijden te vangen in zijn creaties. Zijn olieverfschilderijen kunnen gezien worden als een soort iconen van lang vergeten goden en godinnen. Hij heeft tientallen exposities gehad in binnen-en buitenland. Tevens is zijn werk bekend door de vele cd / LP -hoezen en boekomslagen die hij heeft ontworpen.